Page
1

Mabi Two

- Caribbean Cruise -
Saint Lucia
Rodney Bay
After the ARC Atlantic crossing and the departure of the crew, a few days of rest, then a thorough cleaning of the boat and repairs of the minor damages: new stiching of the genoa and bimini, straightening of the bent stanchion with the help of a robust Caribbean in the car park, repair of the rusted navigation light, replacement of the tattered netting around the cockpit, polishing of the hull and paint touch-up, washing the cockpit teak, ordering of the broken autopilot bolt and a general tidying up. It's good to have it all in order and ship-shape again.
We sailed down to see the Pitons and stopped over the night at a buoy in Marigot Bay, then back to Rodney Bay for the last of the ARC functions.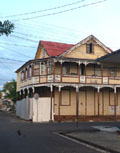 Martinique
We said our goodbyes to our ARC friends, then Mabi and I set sail for Martinique, just four hours away. A very tricky entrance to Le Marin marina, weaving through the many shoals and crowded bay, where we managed to find a berth available. We spent a couple of days, mainly searching for minor boat parts in the many shipchandlers, then a couple of pleasant nights at anchor in Hurricane Bay and at Saint Anne. You see a lot of abandoned wrecks lying around, driven onto the reefs during a past hurricane, a stark reminder to keep away during the huricane season, from April to September.
We then sailed to the capital, Fort de France, passing ex-HMAS Diamond Rock and anchored at Pointe de Bout with its lovely beaches. Then we managed to find room in the tiny marina of Pointe de Bout itself and had to back into the marina with its most narrow entrance. This allowed us to safely leave the boat and catch a ferry to visit Fort de France.
On the 29th Dec, we returned to Saint Lucia as daughter Lisa was scheduled to arrive to join us. Together we had a fascinating trip to see the natural wonders around Soufriere, magnificently organised by Ben and accompanied by Like-it and Driver. This included a hike through a tropical rain forest and a hot volcanic mud bath.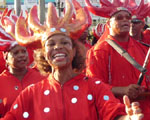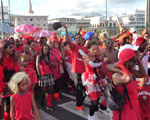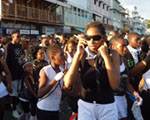 Carnival in Martinique - all red one day and all in black the next day
Soufriere - S. Lucia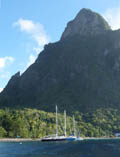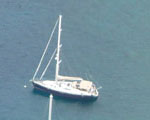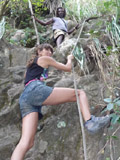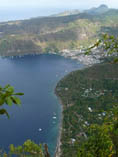 The views from the top of Petit Piton
With Ben as our guide, Lisa and I climbed to the top of the near vertical Petit Piton, 700 metres straight up, using ropes in several places. At our descent, exhausted but satisfied, we recovered our energies with a near boiling shower from a volcanic heated waterfall.
After leaving our newly acquired friends in S. Lucia, we crossed over to S. Vincent and called into the capital Kingstown for Customs clearance. We entered the marina-shipyard Ottley Hall and moored amongst the ships in repair. The manager Tony was most helpful and drove us into town, where we did the formalities at the airport, quickly and efficiently. A slow dinner at VeeJays and then settled down for the night with 10 lines securing us against the strong swell that had built up.
Next day across to lovely Bequia, where we ran into our Atlantic crossing friends, Tony and Teena of Tioram, sister ship to ours and Patrick and Amanda, whom we cocktailed with in Martinique. We all met up again in Mustique, where strangely enough, we were joined by Felicita, the other sister ship of the ARC crossing.
Saint Vincent
Bequia
Mustique
We lazed and bathed at Mustique for three days and visited the island with a very informative taxi driver, Boom-Boom, on who's who there. We also purchased incredibly inexpensive lobster for cooking on the boat, after sunset drinks at Basil's Bar.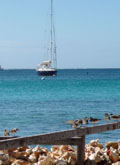 Tobago Cays
An unbelievable place, with its crystal clear emerald waters, white sands, palm trees and reef, where you swim amongst the tortoises. Barbecued lobster on the beach, organised by Mandy-Man.

The Mediterranean Sea
mediterranean-yachting.com
Copyright L. Camillo 2010