Page
2

Mabi Two

- Caribbean Cruise - south to Grenada and back
Mayreau
One principal attractions of the Windward Islands, is undoubltedly the Tobago Cays, a string of tiny islands surrounded by extensive reefs where one can enter with utmost care and anchor in unbelievably beautiful transparent waters and go snorkeling with the tortoises. The beaches are of white sands and shaded by palm trees. The one that most appealed to us was Salt Whistle Bay on the island of Mayreau.
Union Island
Union island is the land base for visiting the fabulous Tobago Cays and the unique Mayreau. Andy was our guide and local help at Union.
The Caribbean islands are formed of a number of closely situated main islands, each an independant country, hardly a full day's sailing one from the other, with many lovely small islands in between. The constant easterly winds favour sailing in both directions up and down the string of islands. What's more, they all have the same currency, the Eastern Caribbean Dollar ($EC), except for French Martinique, which has the Euro. Idyllic, one would say, yes, except for the insane customs and immigration regulations which force you to fill our infinite forms with the same information at each Customs entry, then go to the Immigration office for passport formalities, then sometimes back to Customs. The same when you leave the country, all over again. As you are constantly going from one country to another, you have to first go to a particular port and spend a lot of precious time in useless formalities and paying the local tax. Surley there must be a much simpler way to collect a one-time tourist tax from the cruising community without harrassment and do a one-time entry into the whole Caribbean! One often renounces returning to re-visit a closeby island so as not to go through all the rig-marole again. Harassing and curtailing the cruiser's freedom seems to be a financial disaster for the local tourist industries.
Petit San Vincent
Palm Island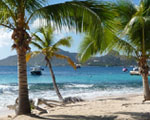 Carriacou
Grenada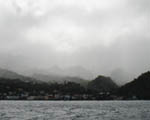 The Mediterranean Sea
mediterranean-yachting.com
Copyright L. Camillo 2010