The first important change was to convert from a sloop rig to a cutter rig. This gives me a roller furler for the storm jib, operated from the cockpit,

to be unfurled at a moments notice, especially when cruising with my wife as the wind can increase to 30 knots within minutes in the Mediterranean.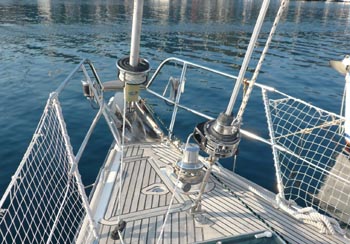 I installed a roller furling system to be able to unfurl and reef the sail from the cockpit.

Inverter
The standard 200 watt inverter was upgraded to 1200 watts, to be able to have 220 volts available without having to use the generator. This is a quiet and silent way to produce 220 volts of electrical current for charging mobile phones, using computer and printer, vacuum cleaner and ladies hair-dryer.

Inverter Cooling vents
I found that the inverter was overheating, caused by a lack of ventilation and have heard that this is common to this model of boat and has resulted in a melt-down, so I recommend everyone doing it.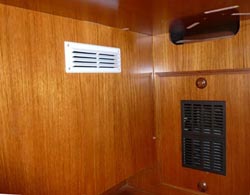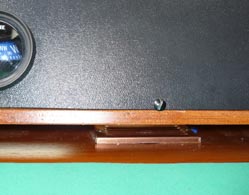 Under the chart table I cut a hole and inserted a vent and did the same under the instrument console.

Tool cabinet
I purchased a Jeanneau wood pack, which contains several pieces of original teak panels, various wood strips, door locks etc., which are useful for making furniture additions and modifications, without damaging the interior decor.
With these indispensable pieces, I had made in the aft port cabin a wall locker to house all my tools. The folding down door doubles as a work bench.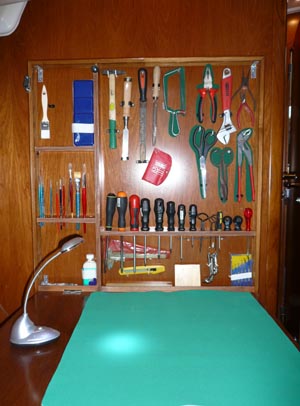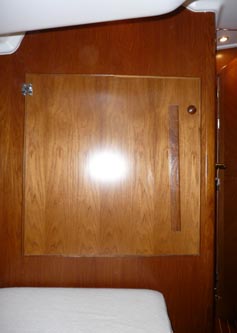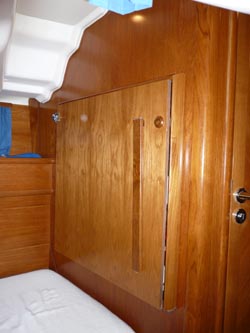 It is only 7 cms deep and takes up hardly any room in the aft cabin.
The folding hinged table leg gives support to a functional work bench.

Similarly, I had made a slim plates cabinet next to the freezer.
On the floor, I found a convenient extra storage space, which only needed a cutout lifting cover.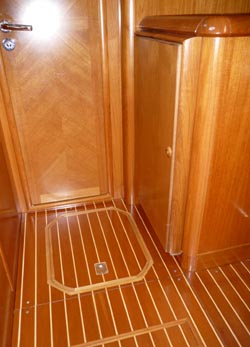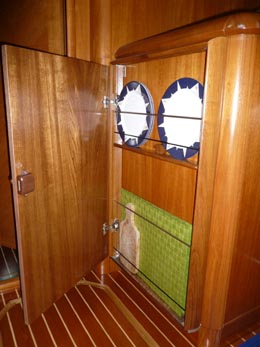 Books, books, where do we keep our books, without them falling all over the place when under sail?
I devised a small bookcase in the master cabin, to be repeated on both sides.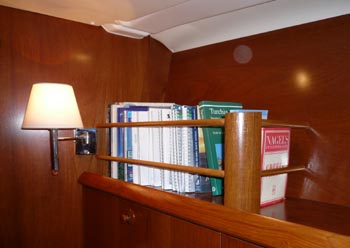 Others can be kept next to the TV, with a backing to keep the electrical plug free.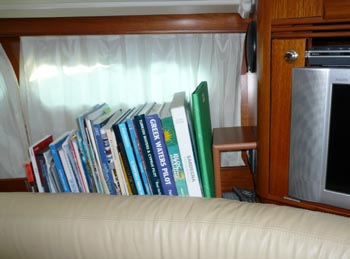 A divider placed on the lid behind the stove, to keep small objects from being thrown around.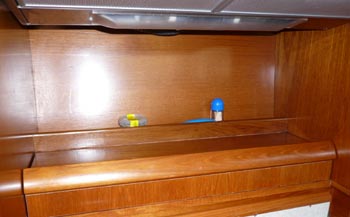 Mast steps
Folding steps have been applied to the mast in order to climb up to the first spreaders.

Seat cushion

A thick seat cushion makes steering more comfortable and gives a better sea view.
The life belt placed inside provides a soft backrest.

Safety harness ring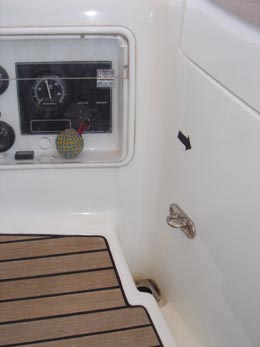 A conveniently place ring to attach the safety harness while at the wheel.
(the arrow remindes me of the direction of the prop walk when going astern)

Stern mooring-line roller
This is particularly useful in cruising Turkey, as you often have to moor to a tree on the shore as the major depths prevent you riding at anchor. If you use a floating line, it makes it easier swimming ashore with it and avoids it getting round the prop as you back in. It can also of course be used for a stern anchor line. It contains 50 metres of warp, which is just sufficient.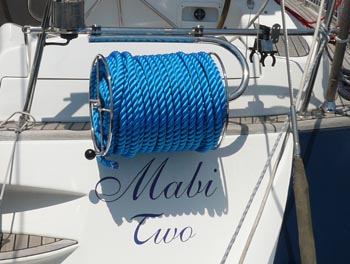 Outboard motor hoist
I had a lovely stainless steel crane made in Turkey and installed it myself on the stern port side, having to shift the flag pole to starboard. It works very well and can also be used in an emergency to hoist up an unconscious overboard crewman if led to the electric winch.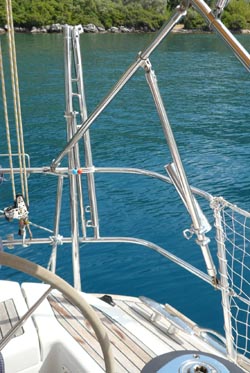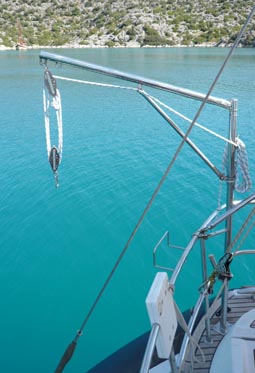 Hoist in folded position and opened up

Locker inventories
It may seem excessive, but I find that a written inventory of the contents of the main lockers very useful for keeping tabs on equipment. It saves you rummaging around in an emergency.

Windex
Strangely enough, there was no windex mounted on the mast, which made finding the true wind difficult, so I had one mounted. On the chart table console, I installed a windspeed repeater, so I don't have to go outside to read the wind speed and direction. I also added a compass on this console as well as one in the master cabin, so I can check the boat swinging at anchor while resting.

Solar Panels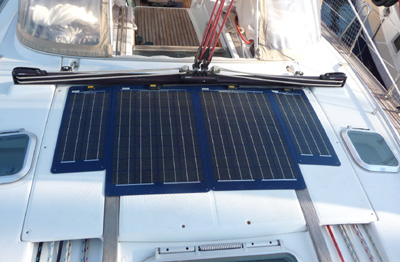 Three packs: motor and service 12 volt and winches 24 volt

Window covers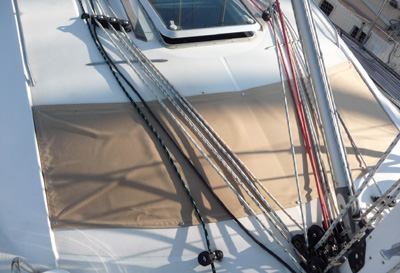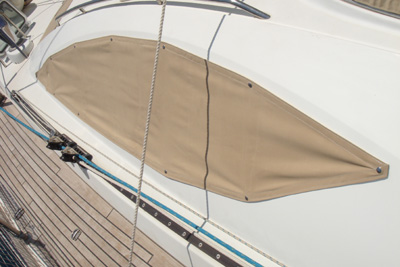 These keep the boat cool and prevent sun bleaching of the interiors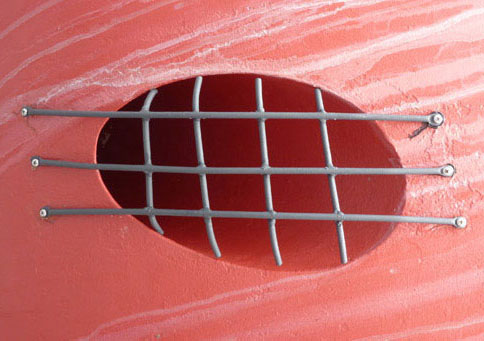 Having had two occasions where the land line got sucked into the bow thruster,
and

with considerable damage on the last occasion, I had a tighter grill placed over the openings

to prevent this happening again. This should be standard practice. No appreciable difference in bow thruster performance.

Anchor chain locker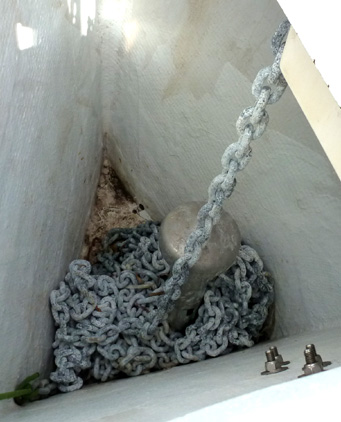 Firstly, a false bottom was laid to raise the floor up to the drain exit, as salt water was stagnant and rusting the chain. A rusted chain does not flow easily and was knotting itself and blocking the anchor winch at critical moments, so I had to get a new chain.
Secondly, a stainless steel mushroom was installed on the locker floor to further facilitate the spreading out of the chain and avoid knotting. This has proved successful so far and am happy with the results.
An ideal Mediterranean Cruising Sail Boat
Copyright L. Camillo 2013