Mabi Two

Improvements - page 2

In preparation for the 2009 ARC trip, many safety and practical improvements were made. Led lighting was largely introduced to reduce electricity consumption. A more rational organisation of all lockers was made to free storage space.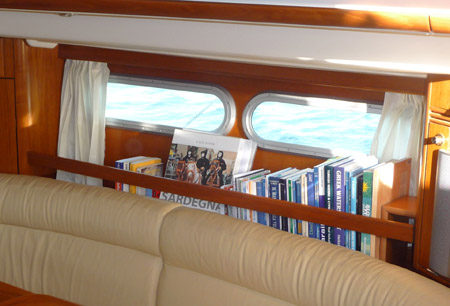 I cut the curtain holder into two long strips and fixed one to the front to hold the books in place and stop them falling out in rough seas.

Safety straps were installed, one in the galley to keep the cook in place and one to block the two armchairs to the table when under way.

A recurring engine oil leak and detachment of the turbo hose-pipe was finally resolved by the Volvo Penta mechanic of Alghero in Sardinia to be caused by an excessive filling of the engine oil. This mistake is easily induced by two top level marks on the dipstick. The topmost level is only for very much inclined engines, so other Volvo Penta owners should take note.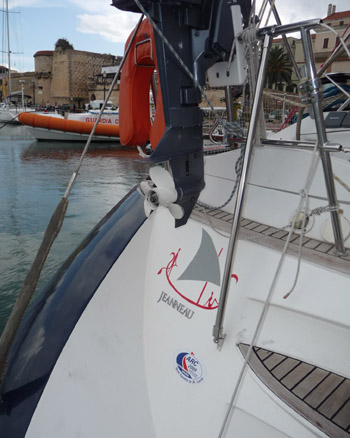 A support was added to the stern railing where the heavy outboard engine is hung.

A sling with line and shackle was added to the heavy life-raft, leading to a winch to facilitate hauling it out, even when short handed.

An extra reef was added to the main-sail, eliminating number 1 reef, considered to be superfluous.

An extra spare halyard was added to the top of the mast, as wear can put one out of action on a long ocean trip and going up the mast at sea to replace it can be dangerous.

Extra fuel jerry-cans were purchased and fixed in the floor of the stern outside lockers

An exterior loud speaker for the VHF radio was placed near the starboard steering wheel to enable constant monitoring of calls and weather reports. The cable had to be soldered to the ICOM outlet and led through the piping to the stern of the boat. A jack enables either headphones or the speaker to be used.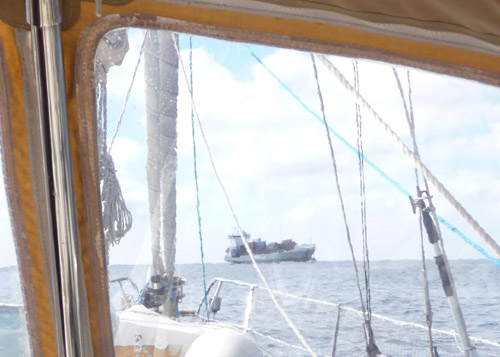 The spray-hood received new transparent plastic panels and a general overhaul. To be able to keep a look-out through its windows on cold overnight trips is a comforting luxury. Much care must be made to avoid scratching and to maintain the transparency.

A holder for a large two litre water bottle was installed in the cockpit.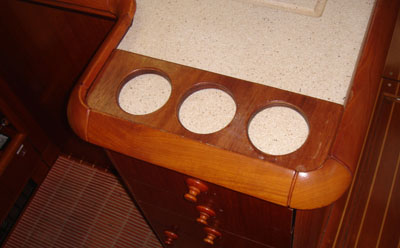 Cup-glass holder for galley top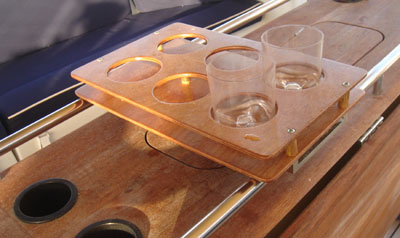 Tray, glass holder to fit cockpit table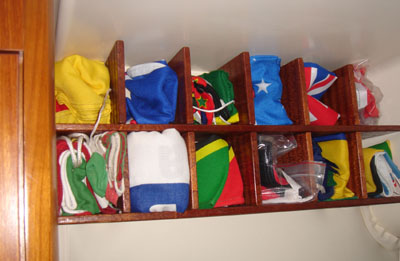 Flag pidgeon holes in the aft port cabin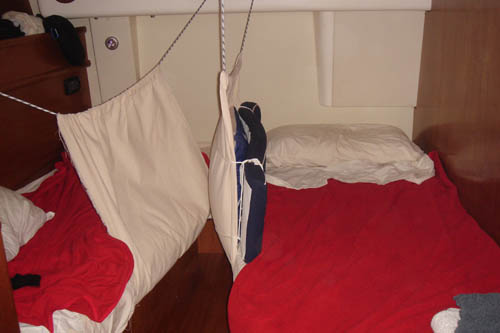 For the return Atlantic crossing much needed lee-cloths wwere installed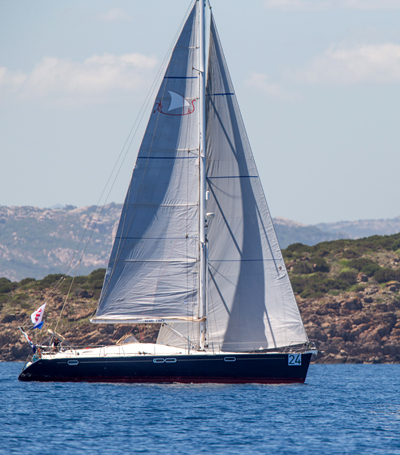 2013 - New North Sails main and genoa Norlam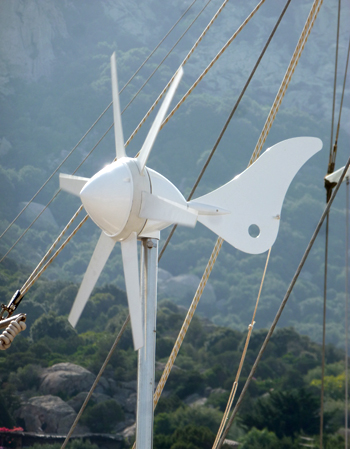 2014 - Wind generator Rutland 914i

An ideal Mediterranean Cruising Sail Boat
Copyright L. Camillo 2014