Mabi Two

- Atlantic W-E
The Log - part 1
Preparation and departure from Antigua
The boat was stationed for a month in Jolly Harbour, Antigua, while I attended to work in Italy, returnng on April 25th to start preparing it for the return Atlantic crossing. The four crew members arrived, first Rob, then David, Fabio and lastly Riccardo. Many jobs to be done, including three climbs to the mast-top and then provisioning.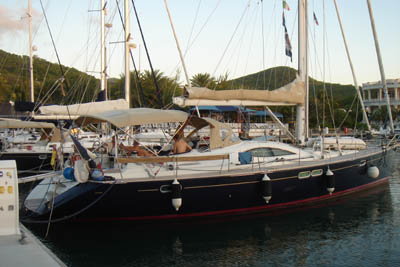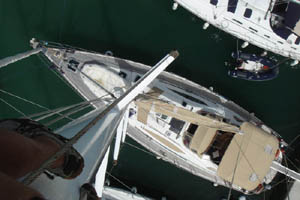 Mabi Two seen from the top of the mast - photo by L. Camillo
We ascertained that the failing winch batteries would have to be substituted and this was best done in Saint Marten, further north, so we decided to set off and call in there to have it done and complete our provisioning with fresh supplies. Our electrician Mandela accompanied us as he wanted a lift to Sint Maarten, a small island, half Dutch (still with Florins!) and half French.
We set off on April 30th at 3pm and noticed immediately that the boat was extremely sluggish, so we anchored outside the marina and I inspected the hull, finding it completely fouled with weed and barnacles, a big surprise for me as it happened in such a short time. Mandela however said this is commonplace, especially in Jolly Harbour.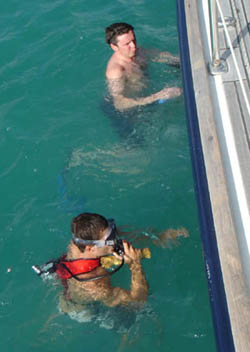 Fabio and Riky with the diving bottle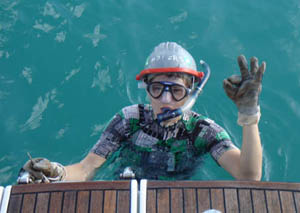 Rob with the helmet to protect his head from the barnacles on the hull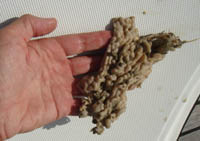 We all took turns in diving under to scrape it all off, Riccardo using the mini diving air bottle I have on board. We then set sail at 6pm, arriving at Saint Marten at 8.30am, just in time for another quick dive and scrape, before the bridge opened at 9.30am to allow us to pass into Simpson Bay.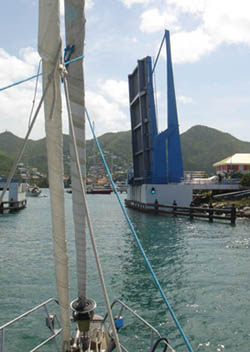 This is a very shallow and protected bay with many marinas, connected by channels, only vaguely marked by ambiguously placed buoys. In fact we grounded in the mud and only after some tribulation, managed to dock at Simpson Bay Marina. However, being Saturday May 1st, all shops were closed including the chandleries and we had to wait till Monday for the batteries and other spare parts. Early Monday morning, all off to the various shops and chandleries for the equipment for urgent repairs (a leaking WC, the bilge-pump that suddenly stopped working and all those other bits and pieces that we needed).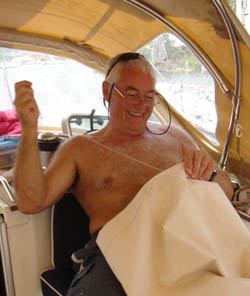 David busy with sewing of the lee-cloths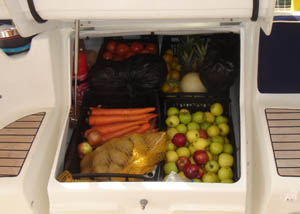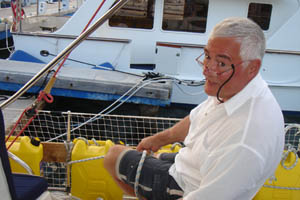 It is surprising how much work there is in preparing a boat for a trans-Atlantic crossing, considering that a lot of work was already carried out for the outward crossing. Safety is the primary concern, then repairs, installation of new equipment, provisioning and generally getting everything ship-shape and in order. All this work also gives the crew a chance to get to know each other and develop that very important team-spirit.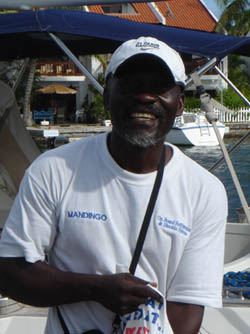 Mandela, who accompanied us to Saint Martin and cured many of Mabi Two's technical ailments
May 3rd, on this last day, rush to the Immigration Department to get our clearance and for Mandela's who had to fly back to Antigua. After our frantic boat preparation and various sorties on provisioning, looking for the best buys, we were ready to go... but, "a rabbit ran across the tracks", a weather low depression. Howling 30 knot winds swept down onto the marina and big seas were reported outside, so we had to delay our departure. On May 4th, we let go the 9.00am bridge opening and then also the 11.00am one and so had to wait for the 4.30pm to be able to finally escape the Dutch Sint Maarten marina.
Sails up and away at 5.00pm and after clearing the headland (French) we raced off at 8 knots in stiff winds. We passed Anguilla and then in almost full darkness we passed between Dog Island and Prickly Pear Cays, while we dined on pasta Bolognaise divinely prepared by Fabio. We put in a deep reef for the night and skipped comfortably along at over 6 knots. I only started relaxing when I finally saw the light of Sombrero Island well off our port side, our last contact of the Caribbean islands while we fully entered the Atlantic Ocean.
During the night the winds and swell eased off and at sunrise we hoisted full sail and enjoyed a pleasant sunny day's sail. The only dramatic incident, a loud banging on the hull, like a half dozen malicious sea-elves trying to hammer their way in .... Panic, panic, what could it be? The answer soon came when it suddenly stopped and a group of six multicoloured fishing buoys all tied together appeared at the stern and floated off, much to everyone's relief.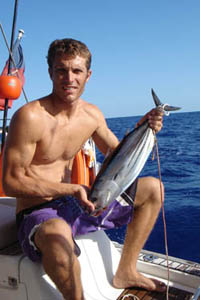 Riky pointed out a shark inspecting our boat and then the bait we had at the end of a line, but didn't bite, fortunately. Shortly after Riky landed a nice 3 kilo tuna, first day out. In the first 24 hours we covered 122 miles and on the second, 127 miles. We should do more, but at night time I insist on reducing sails, which means going slower, but also being prepared for night squalls, which can be nasty and dangerous. In three days we have seen only three ships, in an almost deserted ocean.
A moment of apprehension when the Iridium antenna broke, isolating us off from the email world, which would be very bad news on the weather forecast front. But the broken wires were very neatly soldered by David, allowing us to get back on line. I did a balancing act (prudently tied up to three points) to sew the unstiched lazy bag which was letting the supporting rod slip out.
Friday 7th, the last two days have been mostly fine and sunny with light winds from NE mainly around 12 knots to only occasionally 17 knots, so progress has been constant but only 4 to 6 knots. Rob is very good at tweaking the sails to get that extra knot of speed. We are proceeding on a north, north-east course to arrive at a turning point, 30° North 60° W about 300 miles south-east of Bermuda, where we should pick up tail-winds which will take us eastwards then up towards the Azores. Many boats go further north and stop in Bermuda, but I feel they unnecessarily lengthen the trip and have a greater chance of encountering storms.
There is a lot of floating algae here in this area. Today Fabio caught his first fish, a Mahi-Mahi (Dorado) of 5 kilos and learnt from Riky how to filet it. At sunset we had the spectacle of at least 30 dolfins race towards us and play about the bow of the boat. During the night the wind died off altogether and we had to motor for five hours.
Saturday 8th, the wind freshened considerably, 15 to 18 knots and allowed us to make better progress, though I realise that the hull is not sufficiently cleaned from all the weed and barnacles from Jolly Harbour and we are losing some speed. I decided to try and improve the hull and hove to, but as we had sited a shark the other day, I avoided going over the side and opted for a "mid-Atlantic keel-hauling hull clean", a freshly devised method, whereby I prepared a double rope, entwined with other rough strops and passed it around the hull. My rather scheptical crew proceeded to pull the rope up and down, all along the hull and lowering it to pass under the keel and thus scrape the last remnants of the barnacles off, that we couldn't manage to do by hand at Sint Maarten. I had taken the precaution to remove the log so as not to damage it (the little wheel that sticks out underneath that measures our speed through the water - it takes a certain courage to pull out that plug in the middle of the ocean and see the water rush in!). The effect was immediately apparent, we gained at least a full knot of speed.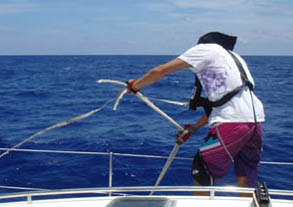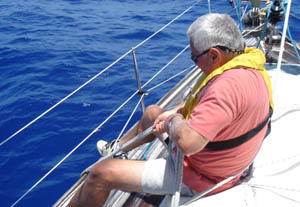 Riky and David doing their tug-of-war with the rope, scraping the barnacles off the hull
The forecast is for a cold front to reach us tonight. Our weather forecasts have always come from the NAVTEX receiver, which was quite adequate in the Caribbean, but we are now out of range. Our email provider Mailasail provides a good service through an Iridium satellite phone connection sending text forecasts and grib files (grib.us). These latter are weather charts with many little arrows showing wind strength and direction, barometer and wave forecasts and come in series for the following days. Being sent over internet they are of a smaller size than normal images such as jpg files, but are still rather bulky for the extremely slow Iridium satellite connection. Before logging on, one must close all those numerous little hidden programs that permeate your computer, constantly hogging the waveband, sending and receiving mysterious spying messages. Once done a normal grib file will nevertheless use up a lot of your Iridium credit and I had to abandon USgrib which is a popular source of grib files for this reason.
With Mailasail however, by appropriately reducing the desired "picture" size I manage to receive it in an acceptable three minutes (on my home computer it would probably take only three or four seconds). Using a special viewing program you can actually animate the wind movement arrows over the next few days, an indispensable tool for the navigator in the middle of the ocean seeking wind but wanting to avoid gales.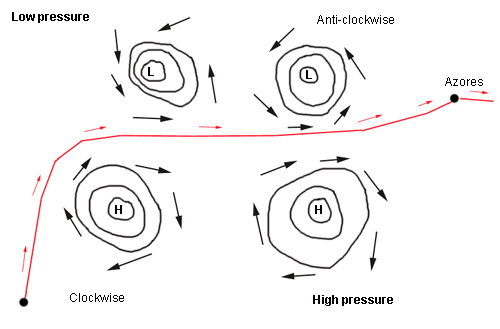 The ideal route between the high and the low pressure systems
I will try to explain to the novice what one is trying to achieve: You leave the Caribbean just after the passing of a high pressure with its southerly winds pushing you north. At about the latitude of Bermuda you turn eastwards above the high pressure zone with fine weather and little wind, rotating in a clockwise motion and just below the low pressure with bad weather and strong winds, rotating in an anti-clockwise motion in the north. You should then have west winds pushing you eastwards all the way, of the right intensity, not too little, not too strong. Well that's the theory, in practice you get winds from all directions and of all intensities!

The danger however is finding yourself too low in the no-wind zone and being stuck there not having enough fuel to motor the immense Atlantic distances, or if you are too high, to find yourself in the middle of gales.
I have loaded on board 14 extra jerry-cans of fuel to help me get across the inevitable no-wind zones that I will probably have to cross, having chosen the "low-road" rather than the more risky "high road" amongst the weather low depressions. This is where the grib files are essential for finding the right course to follow.

The Mediterranean Sea
mediterranean-yachting.com
Copyright L. Camillo 2010