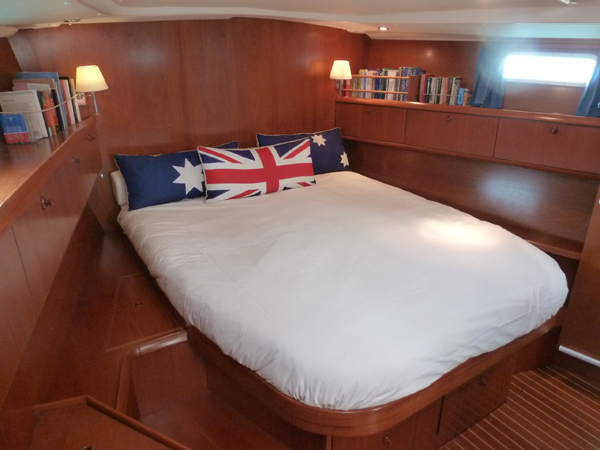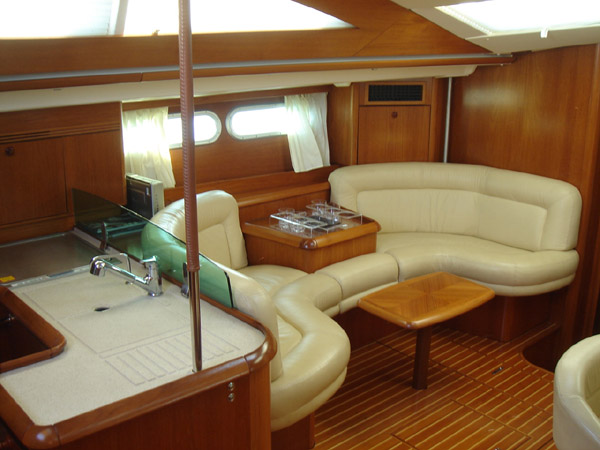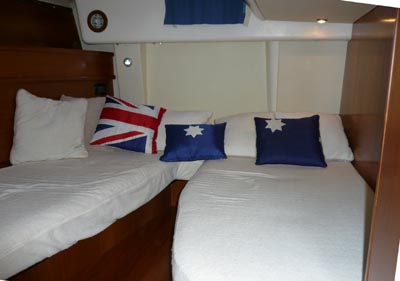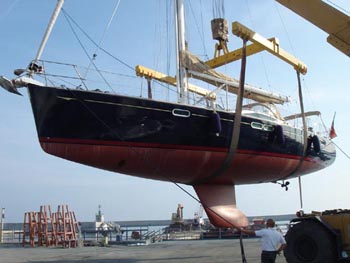 Launching in Genoa, June 2007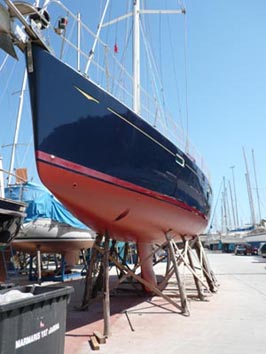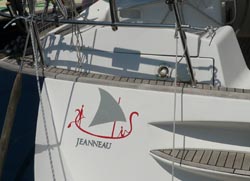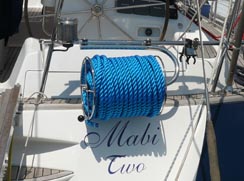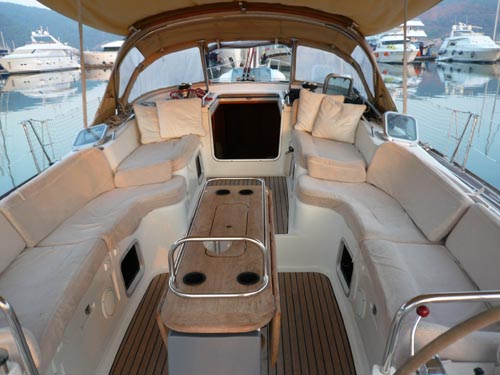 This must be the most comfortable and spacious cockpit on the market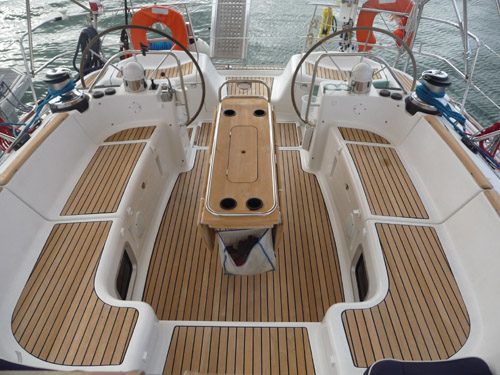 Upgrade to a 54 and sail solo in comfort and style!
The secret of happy husband-and-wife cruising is keeping the lady comfortable and happy, otherwise it's a "No-go" and you have to go back to being boat-less and joining the "Wannabe Club".
So when my wife visited a Jeanneau SODS54 and immediately fell in love with its luxurious comfort, "a villa on the sea" she said, "we must upgrade". Well frankly, I was quite happy with my SODS43, but following Rule 1 above, I reluctantly made the extra financial effort to please her.
In actual fact, I was terrified at the prospect of having to short hand sail such an "enormous" boat, as 90% of our sailing is done just the two of us (and the wife just managing to handle the tiller and the bow-thruster switch).
The seller's pitch, was that a large boat is much more stable and gives you time for walking from one end to the other during mooring manoeuvres, which proved to be quite correct and I quickly found that, with the invaluable help of that marvellous invention of the bow-thruster, I can easily get her into the tightest of moorings. It is a boat which I even frequently sail completely alone (with a fully battened mainsail), as all warps lead back to the cockpit, including the reefing lines and with the help of powerful electric winches and the autopilot, it's a breeze to sail alone.
Moreover, the 54 footer is much more comfortable in heavy seas and that extra knot or two of the longer keel.gets you back to a sheltered mooring much sooner, which all helps to keep the wife happy to continue sailing!
In fact, it turned out to have been an excellent decision to upgrade to this 54,foot Jeanneau, with which we have sailed far and wide in these last seven years, from Turkey to the Caribbean and back again, in style and in comfort.
Why a Deck Saloon?
Deck saloons (also known as raised saloon, deck house, pilot house), consist of a raised coach-house on sailing boats, with large panoramic and luminous windows. They normally have a raised floor, which give you views through these windows, from a sitting position inside. This design enables heavy fuel and water tanks to be low down in the boat, where they should be.
However, one of the main advantages of the deck saloon design, is that it is "wife friendly", encouraging even the most notoriously claustrophobic of the gentler sex to be happy going down below. The very luminous interior and uninterrupted views of the horizon, will do wonders in preventing that "closed-in" feeling and the beginnings of sea-sickness.
Furthermore, those fortunate boat-owners who manage to be able to spend much time in their boats in the marina, will appreciate the possibility of being able to frequently glance outside to see what is going on. This is especially important when under sail and the skipper is down below, with perhaps an inexperienced crew member at the helm, so that he can keep an eye on traffic and obstacles by simple looking out of the ample windows.
On the Jeanneau 54DS, the coach-house is only a few centimetres higher than comparable "normal" boats, so there is no significant windage at all.
Flush deck boats are certainly sleeker in appearance, but they are necessarily tighter and darker inside, so the average cruising family will find deck saloons much more appealing.
An ideal Mediterranean Cruising Sail Boat
Copyright L. Camillo 2010