Porto Cervo

- the Old Port -

The "Old Port" is the southern part of the village of Porto Cervo, lying beyond the little wooden bridge below the main piazza.
In fact it is the first port to have been built, much earlier than the "Porto Nuovo" of the Marina, hence the affectionate name of "Porto Vecchio".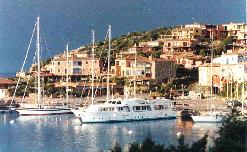 In summer the large pier harbours the largest yachts and provides a fascinating "passeggiata", the evening stroll in front of the yachts at their mooring. The copious parking area often hosts many sporting and cultural events.
On the small hill overlooking the pier we find the several complexes of apartments, in the fortunate position of having an interesting view and being within walking distance of he main piazza of Porto Cervo. These are "Case del Porto", "Maison du Port", "La Residenza sul Porto", the "Capitaneria", and higher up, "Sa Cascada". Right on the port front is a restaurant, a bar, a "superette" and the port authority office, the Capitaneria.
On the top of the hill we have several large villas in a dominating position. The views of the Porto Vecchio area are westwards, towards the setting sun and of the boats at their mooring. the Marina lies across the bay connected by a free ferry service.
Nearby is the Cervo Tennis Club and the Conference Centre and just beyond the wooden bridge, Marinasarda, the boat hire office.
The Mediterranean Sea
mediterranean-yachting.com
Copyright L. Camillo 2000