Galana River II
CURRENT POSITION and LOG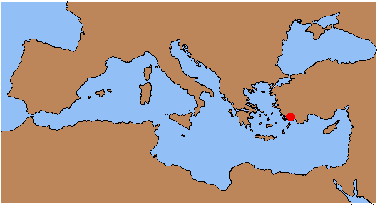 Marmaris - Turkey
October 2006 - Currently in Turkey, Netsel Marina - Lat 28° 16' E Lon 36° 51'
The following maps show the plotted course and the boat's progress during the crossing.
The first leg, from Porto Cervo to Messina - 370 NM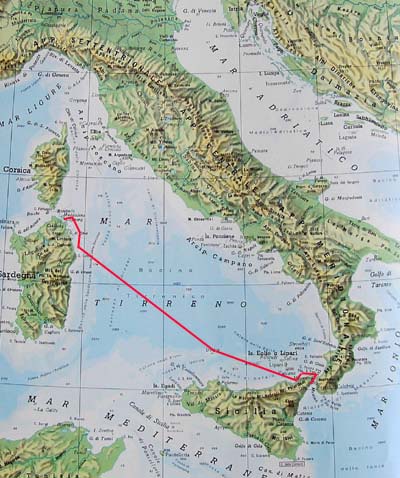 Sardinia to Turkey
The boat is being transferred from home port in Sardinia, to Turkey and left there, with plans to cruise the coast southbound this year and then slowly move back through Greece and Croatia, taking two or three years.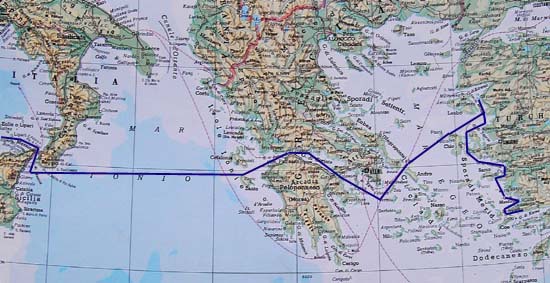 Next course from Messina, Sicily to Ayvalik, Turkey - 600 NM
and the course subsequently followed south on other trips
Trip Log
All preparatory work for the trip finished late Wednesday 20th, due to the very strong Mistral winds, to which Cala Bitta is very much exposed. Leaving the moorings is dangerous and we had to wait for an evening break in the wind to be able to set off, but only with help from ashore, keeping our bows to the wind with a land line. This we did at 7.30 pm, with force 7 and neighbouring force 8. However we knew that only two miles away we would turn around Cape Ferro and be protected by the coastline as we proceed south and that the depression was proceeding eastwards and that good weather was on its way.
Well it was an exciting ride south, armed with a storm sail and a fully reefed mainsail, with steady 25 knots wind and gusts over 30 knots, in the dark, with breaking westerly waves. But as foreseen, after six hours the sea and weather conditions settled to a more comfortable pace. When we were level La Caletta, we headed away from Sardinia and pointed directly for the isle of Ustica. The wind weakened and we proceeded under power, but the sea remained confused with crossed waves, some as high as 3 metres, making it most uncomfortable, and cold, having to steer by hand all the way. Slowly we got further away from the bad weather and settled down to a nice cruise.
( I am writing this at 4 am during my watch, as we motor in a flat sea between the Sicily coast and the Eolian, volcanic islands, with the comforting help of the radar)
Getting away from Sardinia we had three close encounters with ships, saw dolphins twice, two turtles, swallows way out to sea and a sunset with the green flash; a near full moon has made it all easier. We finally arrived at Ustica, an island all by itself in the middle of the sea, taking 38 hours, two nights at sea, for the 223 nautical miles that we covered.
We had no trouble locating the dangerous reef half a mile offshore, as there was a shipwreck perched at a crazy angle on it. At Ustica we had to climb the steep steeps up to the Town Hall, to ask the favour to open the petrol pump, which closed just as we arrived, the promise of a tip probably helped. This time of the year there were no tourists in this quaint town, only numerous busy fishermen, making it a very pleasant landing.
Approaching the port we developed a trickle of water into the bilges, an event that requires immediate investigation. Once in port we traced it with some difficulty to the water exhaust of the engine. Luigi is not one to leave anything un-repaired, so we dismantled the gas bottle locker, through which Luigi entered and reached the problem, a hole in the exhaust pipe. This was caused by a bolt holding the gangplank that was too long, so that after two years of chafing, it broke through the exhaust, leaking water into the boat. The placement of the gangplank in the current position on the back of the boat was done in Malta, where they overlooked this possibility, but no great harm done.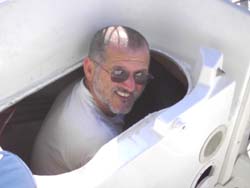 At 3.30 Friday pm we headed off for Milazzo, 100 miles on the Sicilian northern coast. Our trawling finally produced results, a 10 kilo Alalunga tuna, caught at 9 pm, in the dark, after a long battle. As our gas locker was still in pieces, we dined very late on marinated tuna.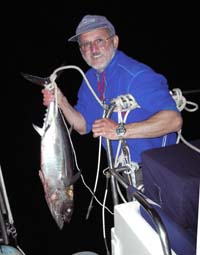 Saturday 8.30 am arrival in Milazo, scrub down of the boat, replenish of supplies, then a long sleep. Luigi and I were joined by nephew Marco. Repair to the gas and a big and delicious meal of fresh tuna.
10.30 Sunday morning the sea was calm and also in Messina, our next port of call 25 miles away. However there was Force 7 in the Sicily Canal, but I thought we would be quickly in Messina. I did not reckon on the Venturi effect of the wind being forced through the narrow strait between Calabria and Sicily, which strengthened it enormously and fanned it out on the other side. In no time the wind whipped up to 30 then 40 knots and peaked at 51 knots with stinging and blinding water on the face.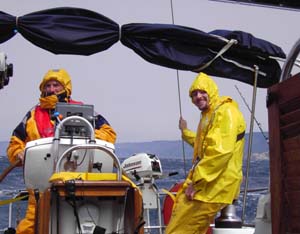 Luigi and Marco in 45 knot wind
The boat held up wonderfully and we managed to proceed all the way to Messina. I avoided sheltering in Scilla on the Calabrian coast as there are rocks at the entrance, but proceeded quite well once we picked the south going current in the Messina Strait. After a few encounters with ships and ferries we finally entered the marina at Messina, soaked, tired, but satisfied. We successfully overcame the same Scilla and Cariddi monsters of the Odyssey of Ulisseys.
An enormous meal of tuna with onions.
Trip so far - 377 nautical miles
Here we met three South Africans who were transferring a Moorings catamaran from Cape Town to Turkey, some 7000 miles and were very tired as they neared the end of their Odyssey.
After having walked all over Messina looking for a decent ship chandler for some spares, we were also very tired, but nevertheless at 2pm, in uncomfortably windy conditions we managed to leave the marina without damage, which is outside of the protective harbour breakwater. The frequent ferry dockings at Messina make the marina berths quite rocky.
With 22 knots of wind we sped down the Messina Straits at a good 8 - 9 knots, which lasted only till we turned the corner around the toe of Italy. After two quiet motor spells we managed to keep an average sailing speed of around 7 knots for the next 24 hours, which is a bit uncommon in the Mediterranean, owing to the variability of wind conditions (either too much or no wind at all).
Having just finished eating our large tuna fish (having given some to the South Africans), we landed another one, a yellow-fin tuna, of 6 kilos.
I have been learning a lot about the inner workings of this boat, having a never tireing handyman aboard, Luigi, who will tenaciously trace any suspicious drop of water to its origin and promptly start taking the boat apart to get to the root of the matter. I now understand what a German fellow said about buying a bigger and newer boat: "I am tempted to buy a new boat, but now that I have gotten to know my boat thoroughly and have gotten it all perfect, I don't want to go through all the hassel again".
The two longer crossings of this trip, two days and two nights, were assisted by the presence of a radar on board, to avoid the frequent ships of the Med, though we keep a constant visual lookout as well. At night time of course, we are always hooked to the boat when out on deck.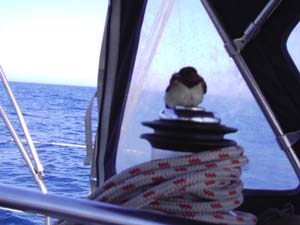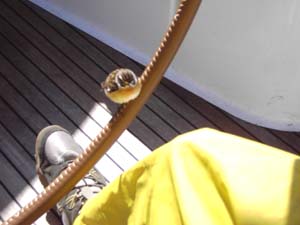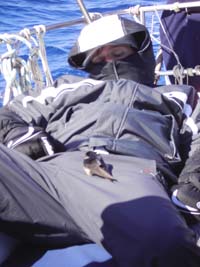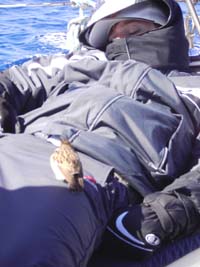 Sleepy Martco used as a cushion by two different birds
During this trip the boat was frequently use by a variety of birds as a temporary resting place during their long exhausting flight from Africa to Europe.
Once arrived in Argostoli, Cefalonia, I immediately went to the police to do official entry into Greece, but had the plesant surprise that there was absolutely nothing to do nor pay, as we were arriving from another European member country, and the currency was the same familiar Euro - how wonderfully simple it all is now!
After another comfortable sail we entered the calm enclosed sea that divides the Peloponisos peninsular from the mainland and motored into Patras, a trip of 73 miles, making a total of 716 miles from Sardinia.
Patras is the third biggest city of Greece and is bustling with activity and has enomous ferries coming and going. The charts give the marina with only one metre of depth, but we were assured that it is 3.5 metres and this we verified, at least near the entrance. Once docked, we did a thorough clean-up and washed the boat, then ourselves and then a well-deserved beer at one of the bars overlooking the marina - stupendous bar-maid (alas, no photo) and a stupendous sunset (photo).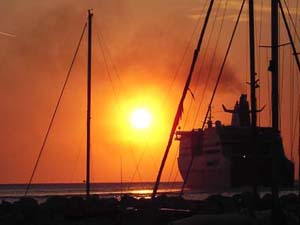 Galana River II
Jeanneau Sun Odyessey 43 Deck Saloon
A Mediterranean Cruising Sailboat
Copyright L. Camillo 2006