Galana River II
Mediterranean Cruises

Cruising History
The boat was picked up in February 2002 and brought to Bocca di Magra, near La Spezia, for minor works and fitting a radar. In May it was brought down to the isle of Elba, at Marciana Marina, and from there transferred via the Tuscan archipelago to Corsica and down to its home port of Porto Cervo in Sardinia.
The Costa Smeralda and the La Maddalena arcipelago were thoroughly explored during the first Summer and in October a long cruise was undertaken, without a clear program, calling in on Tunisia, Sicily and wintering in Malta.
In Spring, a lovely cruise through the Straits of Messina brought it to the Amalfi coast, Capri, Ischia, Ponza and back to Porto Cervo in Sardinia.
In August 2003, the circumnavigation of Sardinia was made, exploring the relatively uninhabited west coast of the island.
In August 2004 the boat returned to the southern part of Sardinia, to explore the more isolated bays in leasure. The stringent restrictions of the military zone of Capo Teulada, normally completely off limits, are slackened in August, so allowing us to enjoy this unblemished coatsline.

Index of Itineraries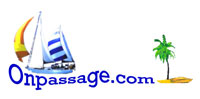 A Mediterranean Cruising Sail Boat
Copyright L. Camillo 2005